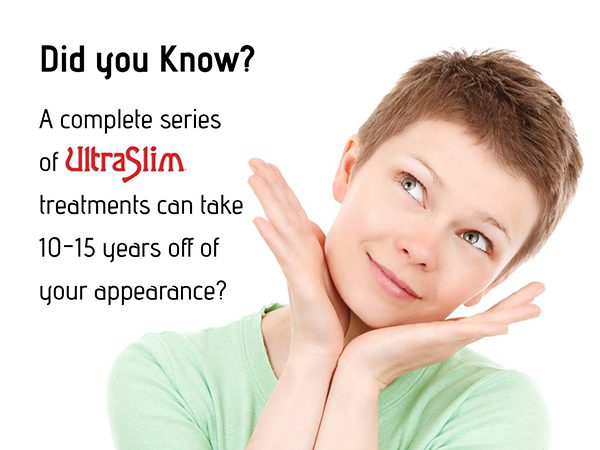 What areas can I treat with UltraSlim®?
WaistBuster
The WaistBuster is a revolutionary non-surgical liposuction alternative that slims the waist, hips, thighs, and buttocks with no downtime. The WaistBuster achieves immediate fat loss with no exercise, dieting, surgery, or drugs. Patients lose on average 3.5 inches and 1.6 liters of fat during a 32-minute treatment. UltraSlim® guarantees 2 inches lost at your first treatment, or your money back. Your individualized care plan will include the number of treatment sessions to achieve your goals.
Non-Invasive Facelift
With the non-invasive facelift treatment, take 10 – 15 years off your face in only two weeks! UltraSlim® significantly improves your skin and neckline. Maintain your youthful appearance with monthly touch-ups.
Also available are Cellulite Reduction treatments and individually targeted treatment of other areas of stubborn fat deposits. Ask your doctor for details.
How does UltraSlim® work?
UltraSlim® stimulated lipolysis is the process where a special patented type of light passes through the skin tissue and into adipose tissue to stimulate the fat cells. The fat cells receive the signal as a sign of starvation or an otherwise necessary energy release. This causes pores in the cell membrane to open and release the fat, then it is removed with your waste.
What does the treatment feel like?
It's slightly warm and very pleasant. The light is positioned over your body several inches away, never touching you. Many patients fall asleep during treatment.
Is there any pain or discomfort?
No! UltraSlim® has no pain, no discomfort, and no downtime.
How many treatments will I need?
Ask your doctor what will be best for you. Each body is different and your UltraSlim® provider will create a treatment plan based on your individual needs.